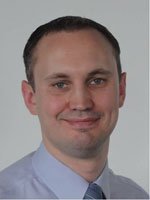 Department of Rheumatology
Queen Alexandra Hospital
me@mrc.soton.ac.uk
0044 (0) 23 9228 6000
Southwick Hill Rd, Portsmouth, PO6 3LY, UK.
BRS New Investigator representative
Consultant Rheumatologist at Portsmouth Hospitals NHS Trust and Visiting Fellow at the MRC Lifecourse Epidemiology Unit, University of Southampton.
Dr Edwards undertook his clinical and research training in the Wessex Deanery. He completed an Arthritis Research UK Clinical Research Fellowship during which he acquired a PhD in Human Development and Health at the University of Southampton. His thesis focussed on the early life and adult determinants of bone microarchitecture using participants from the Hertfordshire Cohort Study. His main research interests are in the epidemiology of osteoporosis, bone imaging including HRpQCT, bone-muscle interactions, and the developmental origins of health and disease. He has been involved in several collaborations including the European Project on Osteoarthritis (EPOSA), EurHealth Ageing and the VIBE study.
As new investigator representative for clinical bone research, he plans to facilitate the learning and development of early career researchers and increase the profile of research to clinicians in training.
Research profile: Clinical/Translational
Skills: Bone Density, Computer Tomography, DXA, Epidemiology.
Interests: Bone Density, Bone Strength, Clinical Medicine, Epidemiology, Imaging, Osteoarthritis, Osteoporosis.
Other Societies: BSR, NOS.