Dr Bronwen Evans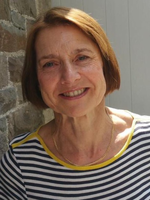 Division of Cancer and Genetics
Cardiff University
evansba@cardiff.ac.uk
02920 743135
School of Medicine, Heath Park, Cardiff, CF14 4XN, UK.
Research profile:
Skills: Cell Biology, Computer Tomography, Histology, Image Analysis, Immunocytochemistry, In Vivo Models, Materials, Molecular Biology.
Interests: Ageing, Biomechanics, Bone Density, Bone Strength, Endocrinology, Extracellular Matrix, Mineralisation, Osteoarthritis, Osteoporosis, Paediatrics, Pharmacology, Physiology.
Other Societies: ASBMR, BORS, IBMS, Society for Endocrinology.