Dr Alex Ireland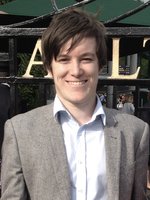 School of Healthcare Science
Manchester Metropolitan University
a.ireland@mmu.ac.uk
0161 247 1987
John Dalton Building, Chester Street, Manchester, M1 5GD, UK.
http://www.healthresearch.mmu.ac.uk/staff/staff_details/?staff_id=810
http://twitter.com/adireland
Alex Ireland is a post-doctoral researcher within the School of Healthcare Science at Manchester Metropolitan University (MMU). His main research interest is in bone mechanoadaptation and the influence of muscular forces on bone loading, assessed using imaging techniques and measurement of neuromuscular function and biomechanics. He is an Associate Editor of the Journal for Musculoskeletal and Neuronal Interactions, and has served as a member of the Membership and Grants Committee for the Physiological Society.
Alex has been a committed BRS member since 2013, attending and presenting work at the last four Meetings. Together with Dr Kate Ward, he set up the BRS Muscle and Bone working group and has arranged well-attended topic workshops both within Meetings and as stand-alone events since 2014. These events have provided opportunities and support for BRS colleagues across disciplines to present and discuss their work with peers and experts in their field. In 2015, he was awarded a Barbara Mawer Travelling Fellowship by the BRS to investigate bone growth in healthy and clinical populations assessed by high-resolution pQCT, in collaboration with MRC Human Nutrition in Cambridge and the University of Southampton.

Research profile: Basic
Skills: Biomechanics, Bone Density, Computer Tomography, DXA, Imaging, Muscle, Physical Activity.
Interests: Ageing, Paediatrics.
Other Societies: ISMNI, The Physiological Society.