Dr Isabel Orriss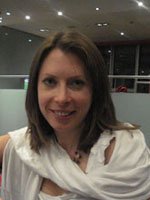 Department of Comparative Biomedical Sciences
The Royal Veterinary College
iorriss@rvc.ac.uk
02074 681238
Royal College Street, London, NW1 0TU, UK.
Isabel Orriss is an Arthritis Research UK Career Development Fellow at University College London. She was awarded a BSc in Biochemistry from the University of Southampton in 2001 and gained her PhD at University College London in 2005. Her post doctoral work (2005-2009) was performed in the laboratory of Prof Tim Arnett at University College London and focused on the role of extracellular nucleotides in bone cell function. Isabel's current Arthritis Research UK fellowship extends these studies in vitro and in vivo.
Isabel is a member of several societies including the BRS, IBMS, ECTS and ASBMR. During her time as the young investigator representative for basic science Isabel is keen to promote and develop the role of young people in the BRS. If you have any suggestions of how the BRS committee can promote career development of young scientists in the bone field please feel free to contact Isabel.
Research profile:
Skills: Bone Density, Cell Biology, Image Analysis, Immunocytochemistry, In Vivo Models, Molecular Biology.
Interests: Endocrinology, Extracellular Matrix, Mineralisation, Osteoarthritis.
Other Societies: ASBMR, ECTS, IBMS, Society for Endocrinology.