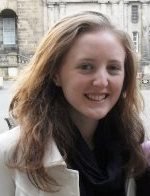 School of Applied Sciences
Edinburgh Napier University
K.Staines@napier.ac.uk
01314553369
Sighthill Campus, Edinburgh, EH11 4BN, UK.
BRS New Investigator representative
Katherine Staines is a Vice Chancellor's Research Fellow at Edinburgh Napier University. Her research is focused on the development, regulation and pathology of the musculoskeletal system. Katherine is also an Associate Scientist at the Roslin Institute, University of Edinburgh.
Katherine completed her BSc in Anatomical Sciences at Bristol University in 2008. Katherine then moved to the University of Edinburgh and was awarded her PhD in 2012, with a thesis that examined the role of Mepe in chondrocyte matrix mineralisation, under the direction of Prof. Colin Farquharson. In 2012, Katherine started her first postdoctoral position with Prof. Andy Pitsillides at the Royal Veterinary College, London. It was during this Arthritis Research UK funded post that Katherine's interest in osteoarthritis developed. In 2014, Katherine moved back to the University of Edinburgh to work on another Arthritis Research UK postdoctoral position looking at the subchondral bone in osteoarthritis. Katherine currently sits on the Editorial Board for the Journal of Endocrinology, the Journal of Molecular Endocrinology, BMC musculoskeletal disorders, and Frontiers in Endocrinology, Bone Research.
Katherine has been an active member of the BRS since 2008, attending conferences and training courses and is now one of the New Investigator reps.
Research profile:
Skills: Cell Biology, Computer Tomography, Histology, Histomorphometry, Image Analysis, Immunocytochemistry, In Vivo Models, Molecular Biology.
Interests: Ageing, Biomechanics, Bone Strength, Endocrinology, Extracellular Matrix, Growth Plate, Mineralisation, Osteoarthritis, Osteoporosis.
Other Societies: BSMB, ECTS, Society for Endocrinology, OARSI.