Dr Dimitris Vlachopoulos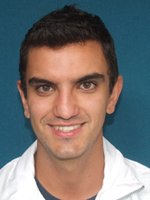 Sport and Heath Sciences
University of Exeter
dv231@exeter.ac.uk
44 0 1392264721
Childrens Health and Exercise Research Centre, Exeter, EX1 2LU, UK.
https://sshs.exeter.ac.uk/staff/researchstudents/index.php?web_id=Dimitris_Vlachopoulos
https://www.researchgate.net/profile/Dimitris_Vlachopoulos
BRS New Investigator non-clinical representative
Dimitris joined the Children's Health and Exercise Research Centre of University of Exeter in 2012 to complete his MSc in Paediatric Exercise and Health, and he is a member of BRS since 2014. His research is focusing on musculoskeletal development and physical activity during growth. He completed the Physical Activity Measurement Training in MRC Epidemiology Unit at the University of Cambridge, and the National Training Scheme for Bone Densitometry of National Osteoporosis Society, before obtaining further experience as Honorary DXA practitioner at the Healthy Bones Unit of Derriford Hospital in Plymouth. He completed his PhD after conducting the PRO-BONE study (Marie Curie EU grant) that includes cross-sectional, longitudinal and randomised controlled trials studies focusing on bone mass, bone geometry and bone metabolism of adolescents.
Dimitris was recently appointed Lecturer in Exeter and he is Honorary Research Fellow at Bristol Medical School working with Prof Jon Tobias. He is extending his research on body composition, physical activity and bone health across lifespan by using the ALSPAC and UK Biobank datasets. One of Dimitris' papers was ranked No2 at the Top Attention Grabbing papers from JBMR journal for 2017 with Altmetric score 305, and was mentioned in many websites including the National Osteoporosis Society. Throughout the years, Dimitris was awarded with three New Investigator Awards including two from BRS and ICCBH. He has recently (2018) been the recipient of the Neil Mackenzie Public Engagement Award and the Barbara Mawer travel Fellowship both from BRS.
Research profile: Basic
Skills: Bone Density, DXA, Nutrition, Paediatrics, Physical Activity, Physiology.
Interests: Bone Strength, Epidemiology, Muscle, Osteoporosis.
Other Societies: ASBMR, ECTS, NOS, Physiological Society, ECSS, ACSM, BASES.