Prof Miep Helfrich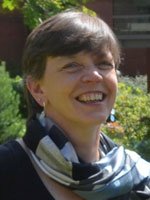 School of Medicine, Medical Sciences and Nutrition
University of Aberdeen
m.helfrich@abdn.ac.uk
07931952695
Institute of Medical Sciences, Aberdeen, AB25 2ZD, UK.
Miep has a first degree in Cell Biology from the University of Wageningen in the Netherlands and a PhD from the University of Leiden where she studied osteopetrosis. Miep came to London in 1988 as postdoc in the group of the late Professor Mike Horton to study the role of integrins in bone cells and moved to Aberdeen in 1992 where she has worked ever since. Following another postdoc and an Arthritis Research UK-funded fellowship she was appointed as senior lecturer in 2004 and promoted to chair in 2009. She retired at the end of 2015 but continues to hold an honorary appointment as emeritus professor at the University of Aberdeen.
Miep's research interests are in studying osteoclast diseases, such as osteopetrosis and Paget's disease of bone with a focus on the role of the endosomal and autophagosomal pathway in disease pathogenesis. She uses a range of microscopical techniques and has a special interest in ultrastructural imaging of bone cells exploring 3-dimensional imaging methods at the nanoscale. She was the academic lead of the microscopy core facility in Aberdeen from 2002 until her retirement and chaired the Scottish Microscopy Group for many years.
Miep led the Musculoskeletal Programme in Aberdeen from 2010-2014 and was board member of the European Calcified Tissue Society from 2009-2012. She was awarded the Mike Horton Award from the ECTS in 2018. She joined the BRS when she first came to the UK in 1988 and served as committee member from 2005-2008 and as its president from 2016-2018.
Research profile: Basic
Skills: Cell Biology, Electron Microscopy, Histology, Histomorphometry, Image Analysis, Immunocytochemistry, In Vivo Models, mentoring, public engagement.
Interests: Ageing, Imaging, Paget's, Pathology, Rare Bone Diseases, Osteopetrosis, rare metabolic bone disease.
Other Societies: ASBMR, ECTS, American Society for Cell Biology, Royal Microscopical Society.