Dr Rosemary Hollick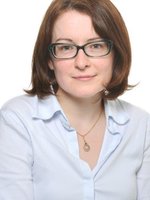 Aberdeen Centre for Arthritis and Musculoskeletal Health
University of Aberdeen
rhollick@nhs.net
01224 552289
1st Floor Health Sciences Building, Foresterhill, Aberdeen , AB25 2ZN, Scotland.
https://www.abdn.ac.uk/acamh/
Rosemary is a newly appointed Senior Clinical Lecturer and Honorary Consultant Rheumatologist at the University of Aberdeen. She initially obtained a BsC in Pharmacology (1st class honours) from the University of Aberdeen before studying medicine at the University of Glasgow. She completed her specialist training in Rheumatology in 2017.
Rosemary joined the University of Aberdeen Health Services Research Unit in 2014 as a Clinical Research Fellow and undertook a PhD evaluating the delivery of mobile healthcare services to rural areas across the UK. Her thesis focused on the set up, delivery and evaluation of a mobile bone density scanning service across three health boards in Scotland to address inequalities in access to fracture prevention services for older, frailer persons. The study also examined the challenges of adopting, implementing and sustaining fracture prevention services across a diverse range of contexts in the UK.
In 2015 Rosemary was selected to join the founding cohort of the Q Initiative, supported by The Health Foundation and NHS England, which aims to improve the quality of care for patients in the NHS. Her current research interests include the effective design, delivery and whole system evaluation of falls and fracture prevention services in order to deliver high quality, effective person centred care.
As a committee member Rosemary aims to promote the development of research skills and training to clinicians in training, as well as the translation of basic science, clinical research and trials into the effective delivery of healthcare services to persons with metabolic bone disease.
Research profile: Clinical/Translational
Skills: Clinical Medicine, DXA, Osteoporosis, Qualitative Research.
Interests: Clinical Medicine, Clinical Trials, Osteoporosis, Qualitative Research, Organisation and delivery of health care services.
Other Societies: ASBMR, BSR, NOS.