Dr James Edwards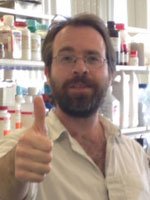 Nuffield Dept of Orthopaedics, Rheumatology and Musculoskeletal Sciences
University of Oxford
james.edwards@ndorms.ox.ac.uk
01865 227305
Botnar Research Centre, Nuffield Orthopaedic Centre, Windmill Rd, Oxford, OX3 7LD, UK.
James Edwards received his D.Phil from the University of Oxford, where he began his research career examining the cellular and molecular mechanisms governing normal and pathological bone remodeling. In 2004, he relocated to the University of Texas Health Science Center at San Antonio to join the group of Greg Mundy, and subsequently to Vanderbilt University in Nashville, to investigate new therapeutics in fracture repair and pathways mediating cancer-induced bone disease and ageing within the musculoskeletal system.
James has received a number of awards, including the AIMM John Haddad Young Investigator Award, ASBMR Outstanding Contribution to the Pathophysiology of Osteoporosis Award and various New Investigator Awards and is now funded as an Arthritis Research UK Fellow.
James currently leads the Musculoskeletal Ageing group at the Botnar Research Centre, University of Oxford with major research themes exploring autophagy in musculoskeletal disease, sirtuins as mediators of ageing and skeletal remodeling and the role of diet in the maintenance of skeletal integrity throughout life.
Research profile: Basic/Translational
Skills: Cell Biology, Computer Tomography, Histology, Histomorphometry, Image Analysis, Immunocytochemistry, In Vivo Models, Molecular Biology, Protein Chemistry.
Interests: Ageing, Extracellular Matrix, Imaging, Nutrition, Osteoarthritis, Osteoporosis, Paget's, Pathology, Physiology, Translational Medicine.
Other Societies: ASBMR, ECTS, IBMS, ORS.