Meetings, courses and workshops can be publicised here free of charge. Please complete this details form and email to web@boneresearchsociety.org.
See below for other related events.
BRS Events
BRS Oxford Clinical Training Course in Osteoporosis and other Metabolic Bone Diseases

25-27 March 2024, Merton College, Oxford
This popular course will again be held at Merton College. Registration will open in September. Please email the events team on events@boneresearchsociety.org should you wish to be added to 'interested' list and we will contact you as soon as it opens.
BRS Annual Meeting 2024

10-12 July 2024, The Edge, Sheffield, UK
We are looking forward to welcoming our friends and colleagues to Sheffield next year. More details to follow soon...
Other Events
Cancer and Bone Society (CABS) Meeting 2023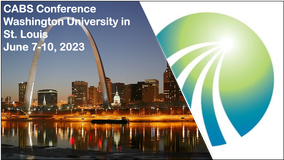 7-10 June 2023, Washington University, St. Louis, Missouri
INFORMATION & LOGISTICS
The 2023 CABS conference will take place in person at Washington University in St. Louis, Missouri June 8-10, 2023, with a Young Investigator Networking session on the evening of June 7. Conference sessions will be held in the Eric P. Newman Education Center (EPNEC) on the Washington University campus.
Room blocks have been secured at the DoubleTree by Hilton St. Louis Forest Park (5 minute walk to conference venue) and The Chase Park Plaza Royal Sonesta Hotel St. Louis (13 minute walk to conference venue).
Abstract submissions are now open! Abstracts should be sent as a Word document to cancerandbone@gmail.com and contain no more than 2500 characters in length (including spaces). Please include a title and author list with affiliations at the top of the page - these DO NOT count toward your character limit. Figures and legends are not allowed. Abstract submissions close on March 15, 2023. Notifications for oral/podium and poster presentations will be sent out in April 2023. Please email Rachelle Johnson at rachelle.johnson@vumc.org with questions about abstract submissions.
Conference registration will open in the spring and include breakfasts, lunches, and a gala on Friday night. Renew your CABS membership now to secure reduced registration rates!
Abstract deadline: 15 March 2023
41st ANNUAL MEETING OF THE EUROPEAN BONE AND JOINT INFECTION SOCIETY

12-14 October 2023, Basel, Switzerland
We are pleased to announce the 41st Annual Meeting of the European Bone and Joint Infection Society, which will take place in Basel, Switzerland, 12-14 October 2023.
Important dates:
Abstract Submission Deadline: 12 April 2023
Early Registration Deadline: Before 1 July 2023

The registration and abstract submission will open in December 2022.
Abstract deadline: 12 April 2023