Meetings, courses and workshops can be publicised here free of charge. Please complete this details form and email to web@boneresearchsociety.org.
See below for other related events.
BRS Events
BRS Annual Meeting 2022

6-8 July 2022, Manchester Metropolitan University, Manchester, UK
The abstract deadline is now closed.... LATE BREAKING ABSTRACT submission will open on Friday 22 April. More details about the meeting can be found by clicking on the link below.
Other Events
ICCBH Bone School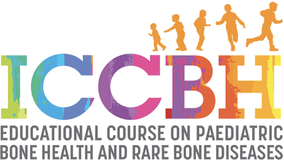 29 June - 1 July 2022, Dublin, Ireland
A 3-day immersive international course giving the opportunity to learn about and discuss mechanisms, clinical diagnosis and treatment of paediatric bone disorders.
3rd International XLH Symposium

1 July 2022, Dublin, Ireland
The XLH Symposium will bring together global clinical XLH experts and researchers to encourage productive debate and to share critical knowledge in the field of XLH and other rare hereditary hypophosphataemias. The Symposium is free to attend
The symposium programme has been organised in close collaboration with top international XLH experts and will provide insights into XLH in both children and adults as well as present the newest research, including gene therapy.
10th International Conference on Children's Bone Health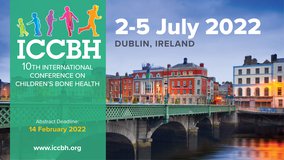 2-5 July 2022, University College, Dublin, Ireland
This Conference will bring together scientists and clinicians from a wide range of disciplines to gain a better understanding of the growing skeleton in health and disease. The scope ranges from basic molecular mechanisms to clinical aspects, from bone physiopathology to treatment. We invite anyone with an interest in bone metabolism and bone mass in children, adolescents and young adults to attend. The ICCBH conference takes place every two years. The 2019 meeting was attended by over 500 delegates from across the globe, making it truly multinational and multidisciplinary – a unique networking opportunity.
Abstract deadline: 28 February 2022
14th International Conference on Osteogenesis Imperfecta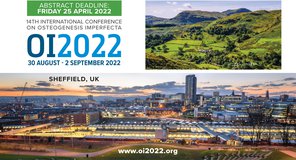 30 August - 2 September 2022, Sheffield, UK
It is with great pleasure we invite you to participate in the 14th International Conference on Osteogenesis Imperfecta in Sheffield, UK, on 30 August to 2 September 2022 (postponed from 5-8 September 2020).
The meeting will offer a high quality scientific programme of interest to both clinical and basic scientists. We're expecting between 200 and 250 delegates from across the globe, including many key opinion leaders in the field.
Abstract deadline: 25 April 2022
40TH ANNUAL MEETING OF THE EUROPEAN BONE AND JOINT INFECTION SOCIETY

8-10 September 2022, Graz, Austria
We are pleased to announce the 40th Annual Meeting of the European Bone and Joint Infection Society, which will take place in Graz, Austria, 8-10 September 2022.
The main conference theme is:
Walking along the razor's edge... Challenges and limits in treatment of bone and joint infection
The programme topics are:
Bacteriophage therapy
Definition and diagnostic criteria for PJI
Fracture-related infection: management strategies
Native Osteomyelitis
Optimising post-operative antibiotic therapy
Periprosthetic joint infection of the upper extremity
Polymicrobial BJI
Spinal implanted related infections
Treatment strategies for hip PJI

Important dates:
Abstract Submission Deadline: 7 April 2022
Early Registration Deadline: Before 1 July 2022
The registration and abstract submission are open!
Find more information on the conference website: https://ebjis2022.org/
We hope the scientific programme will be of value to increase your knowledge, improve your future clinical work and build your friendships in the Society.
Abstract deadline: 7 April 2022
Adult North Star Network Symposium: Management of Bone Health in Adults with Duchenne Muscular Dystrophy
31 October 2022, 10:00, Online
1000-1010 Over-all introduction (Prof. Ros Quinlivan)
1010-1020 Introduction to the Adult North Star Network (Dr. Aleksandra Pietrusz)
1020-1050 Adult management & outcome of DMD (Prof. Ros Quinlivan)
1050-1120 Osteoporosis in DMD: Current international standards of care and paediatric management (Dr. Jarod Wong)
1120-1150 Bone density assessment in adolescents and adults with DMD: Challenges and practical issues to consider in acquisition and interpretation (Dr. Nicola Crabtree)
1150-1220 How I manage osteoporosis in adults with DMD? (Prof. Richard Keen)
1220-1250 Puberty and gonadal function in adolescents and adults with DMD (Dr. Claire Wood)
1250-1300 Overall discussion
To register please email m.regan@musculardystrophyuk.org.