Dr Elizabeth Curtis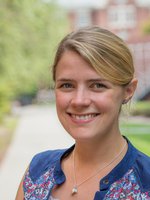 MRC Lifecourse Epidemiology Unit
University of Southampton
bc@mrc.soton.ac.uk
02380 777624
Southampton General Hospital, Tremona Road, Southampton, SO16 8EB, UK.
https://www.mrc.soton.ac.uk/web2/staff/#gallery-details-curtis-beth
Beth Curtis undertook her undergraduate medical training at the University of Oxford, graduating in 2010. Whilst there, she undertook a BA in Medical Sciences and developed interests in both rheumatology and human development.
She joined the Academic Foundation Programme in the Wessex Deanery in 2010, incorporating a research placement at the MRC Lifecourse Epidemiology Unit, University of Southampton. She completed her MRCP examinations and Core Medical Training at Southampton General Hospital, and then gained an Academic Clinical Fellowship in the Wessex Rheumatology Specialist Training programme in 2014. Continuing her interest in early-life determinants of osteoporosis, in 2016 she was awarded a Wellcome Trust Clinical Research Training Fellowship. She is now undertaking her doctoral studies supervised by Professors Cyrus Cooper and Nick Harvey and epigenetics specialists Professor Karen Lillycrop and Dr Christopher Bell. Her research is based on the epigenetic determinants of bone microarchitecture, working on the Southampton Women's Survey and the MAVIDOS randomised controlled trial of vitamin D supplementation in pregnancy.
She has also contributed to parallel projects on drug safety in various rheumatological conditions, working within a European collaboration, ESCEO, and with the British Society for Rheumatology, in addition to projects on fractures and bone health using data from Clinical Practice Research Datalink and UK Biobank. She has been the recipient of Young Investigator awards from ESCEO, ASBMR, BSR, NOS and BRS and was nominated to attend the Global Young Scientists Summit in Singapore in 2017.
Research profile: Clinical/Translational
Skills: Clinical Medicine, DXA, Epidemiology.
Interests: Ageing, Bone Density, Bone Strength, Clinical Medicine, Epidemiology, Genetics, Mineralisation, Nutrition, Osteoarthritis, Osteoporosis, Pharmacology, Translational Medicine.
Other Societies: ASBMR, BSR, NOS.