BRS Clinical Training Course: Osteoporosis and Other Metabolic Bone Diseases
6-8 April 2020
Merton College, Oxford, UK
Programme Chairs:
Tash Masud (Nottingham, UK)
Jon Tobias (Bristol, UK)
Aims and objectives
Programme
Who should attend?
Registration and accommodation
Networking events
Venue
Travel
Contact
Downloadable flyer
Information for delegates (download) Sponsorship opportunities
COVID-19
We have been carefully monitoring the rapid developing situation with Covid-19 (Coronavirus) over the past weeks. The health and wellbeing of all participants attending the Course is our number one priority and we regret to inform you that we have had to take the difficult decision to postpone this BRS Clinical Training Course until next year.
If you have registered for this meeting, you should have received an email with further information, if not, please email us.
This three-day residential training course aims to provide clinicians working in medical specialties such as rheumatology, endocrinology, care of the elderly, gastroenterology, orthopaedics, respiratory medicine and clinical chemistry with the knowledge and understanding to manage patients with osteoporosis and other metabolic bone diseases. The course focus is on practical issues relating to patient management and is strongly recommended for anyone who treats patients with these disorders. A stimulating interactive format will be employed combining lectures, panel discussions, debates and workshops. The course is suitable for clinicians of different levels of expertise, including doctors in specialist training, consultants, GPs and specialist nurses.
Some comments from those who attended the previous course:
"Fantastic course, probably the best I have ever been on"
"Brilliant course set at the right level, knowledgeable speakers, will definitely recommend it"
"Excellent, relevant course – I have already started recommending it to my peers"
"I am really impressed by the speakers, very good learning environment, excellent organisation of the course events"
"Very useful, inspiring course … represented great value for money in terms of both quality and quantity of teaching … I will certainly be recommending this course"
"It is lovely to attend a course that is so service orientated and well organised"
"I never liked osteoporosis until I attended this course - I can't praise it enough!"
Please click the following link to view the list of speakers and the training course programme for the 2020 course:
Please note the call for cases for the Wednesday morning workshop -
"Expect the unexpected in your clinic – includes bring your cases"
If you are able to bring your own case along, please do this by sending either a half page case history or 3 powerpoint slides to events@boneresearchsociety.org no later than 16 March 2020. We will let you know before the course if your case will be included.
The course will be of particular interest to those involved with the management of patients with osteoporosis and other metabolic bone diseases, including:
Trainees in specialties such as:
Rheumatology
Endocrinology
Care of the elderly
Gastroenterology
Orthopaedics
Respiratory medicine
Clinical chemistry
Nurses and other allied health professionals working in specialist clinics including:
Osteoporosis and other metabolic bone diseases
Falls
Fractures
Care of the elderly
The course will also be of interest to newly appointed consultants working in any of the above fields, as well as anyone who would simply like to update their knowledge.
The course is in the process of obtaining CPD accrediation from the The Royal College of Physicians.
REGISTRATION AND ACCOMMODATION
Both residential and non-residential options are offered. We recommend participants to take the residential option to take advantage of all the networking opportunities the course offers. Previous attendees have found it very useful to share experiences with each other in the evenings and over breakfast (also see below regarding the evening dinners).
Residential fee: £525
Residential option includes:
2 nights' bed and breakfast accommodation in single student rooms with private bathrooms at Merton College
Dinner at Merton College on 1st night
Reception and Course Dinner on 2nd night
Lunch and tea/coffee breaks on all 3 days of course
Attendance at all sessions and workshops
All course materials, including downloadable speaker slide sets
Non-residential fee: £380
Non-residential option includes:
Lunch and tea/coffee breaks on all 3 days of course
Attendance at all sessions and workshops
All course materials
College Dinner on 1st night for non-residential participants - £25
Reception and Course Dinner on 2nd night for non-residential participants - £60
For those travelling from further afield there is also an option to book bed and breakfast accommodation at the College on the Sunday night (5 April) at £80. Just select this option on the registration form and it will be automatically added to your booking.
Information for delegates (download)
Cancellation of Registration / Refund Requests
All cancellations of registration or refund requests must be made in writing to the Bone Research Society events@boneresearchsociety.org
Cancellation of registration or refund requests will be accepted until and on Friday 28 February 2020 – cancellation requests received before this date will be subject to an administrative charge of 10%.
For cancellations or refund requests made after Friday 28 February 2020 (for any reason including ill health) we regret that no refunds can be made or authorised.
Please send your email confirmation and receipt with the written cancellation. Refunds will be processed after the event.
It is recommended that all delegates take out insurance to cover their registration, travel and accommodation costs to cover the case that they are unable to attend or the event is cancelled for any unforeseen reason. The BRS takes no responsibility for reimbursing delegates' expenses in such cases.
Delegates are fully liable for damages caused to third parties and property. All delegates shall have valid, comprehensive third party liability insurance.
It is recommended that all participants attend the networking events whether or not they are staying on campus at Merton College. There will be opportunities to mix with other participants and speakers and this sharing of information and ideas can really enhance your learning and give you the opportunity to set up new collaborations. These events are included in the residential registration fee.
Monday 6 April, 19:00-20:00
College Dinner at Merton College
Followed by free time and networking
Tuesday 7 April, 19:00-22:00
Reception and Course Dinner
Pembroke College
Followed by visit to some of Oxford's most interesting pubs
The course will be based at Merton College, Oxford, with its beautiful and tranquil buildings and gardens, just a stone's throw from the busy High Street.
Information for delegates (download)
The College is within easy reach of rail, coach and bus stations. Further information can be found here.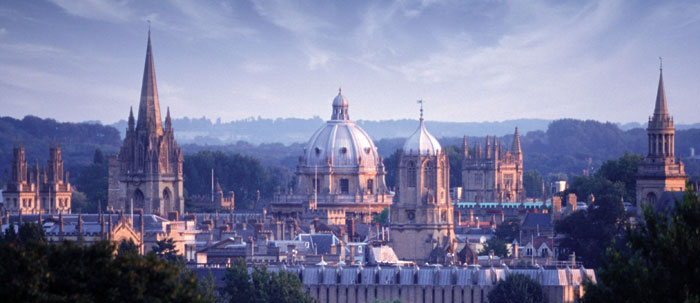 Please note that no parking is available at Merton College. We recommend public transport or Park and Ride.
By air
London's Heathrow airport is the nearest to Oxford. There is a regular bus service (journey time approximately 90 minutes) to Oxford bus station from where you can get a taxi to the venue (or walk – approximately 10 minutes). See The Airline bus company for more details.
By train
Trains run at least once an hour between Oxford and London, and twice an hour during peak times. Oxford is also on the main cross-country routes. For details of times and fares visit www.nationalrail.co.uk.
The College is around 20 minutes' walk from the train station. If you prefer to take a taxi just ask for "Merton College".
By coach
Two companies run frequent buses, 24 hours a day, between London (Victoria Bus Station) and Oxford. These are the Oxford Bus Company (telephone +44 (01865 785 400), and Oxford Tube (telephone +44 (0)1865 772 250). There are also direct and regular services to Oxford from Heathrow and Gatwick airports operated by the Oxford Bus Company (telephone +44 (0)1865 785 400). Coach services from other parts of the country are available with National Express.
High Street is the nearest stop, or alternatively the College is around 10 minutes' walk from the bus station. Taxis are also available.
SPONSORSHIP OPPORTUNITIES
If you are interested in sponsoring this training course, please email for further infromation: events@boneresearchsociety.org
Further information is available from:
Claire Arrigoni
Course Organiser
Tel: +44 (0)7729967949