Cancer and Bone Society (CABS) Meeting 2023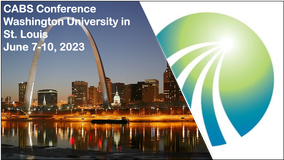 7-10 June 2023, Washington University, St. Louis, Missouri
INFORMATION & LOGISTICS
The 2023 CABS conference will take place in person at Washington University in St. Louis, Missouri June 8-10, 2023, with a Young Investigator Networking session on the evening of June 7. Conference sessions will be held in the Eric P. Newman Education Center (EPNEC) on the Washington University campus.
Room blocks have been secured at the DoubleTree by Hilton St. Louis Forest Park (5 minute walk to conference venue) and The Chase Park Plaza Royal Sonesta Hotel St. Louis (13 minute walk to conference venue).
Abstract submissions are now open! Abstracts should be sent as a Word document to cancerandbone@gmail.com and contain no more than 2500 characters in length (including spaces). Please include a title and author list with affiliations at the top of the page - these DO NOT count toward your character limit. Figures and legends are not allowed. Abstract submissions close on March 15, 2023. Notifications for oral/podium and poster presentations will be sent out in April 2023. Please email Rachelle Johnson at rachelle.johnson@vumc.org with questions about abstract submissions.
Conference registration will open in the spring and include breakfasts, lunches, and a gala on Friday night. Renew your CABS membership now to secure reduced registration rates!
Abstract deadline: 15 March 2023