BRS Basic Course in Bone and Cartilage Biology and Disease 2022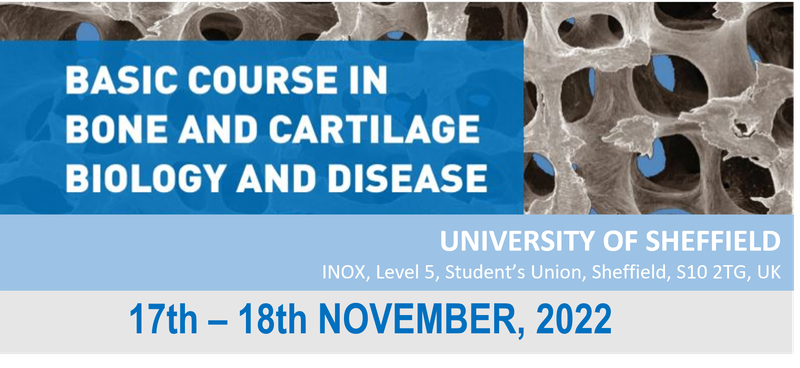 17-18th November 2022, INOX Conference Suite, University of Sheffield
Registration Deadline: 2 November 2022
New to the field of bone and joint research? Wanting to catch up on the latest in bone and joint diseases? Organised by the Bone Research Society, this 2-day residential course is for all basic and clinical postgraduate students, postdocs and research fellows who may be starting out in this field, or who want to catch up in preparation for their postgraduate viva.
The course is taught by experts in bone and joint biology from across the UK and is an opportunity to meet senior scientists in the field as well as network with colleagues and potential collaborators. You will gain a detailed understanding of the basics of bone and joint biology and become familiar with common and rare bone diseases and their pathophysiology.
Speakers and programme

Please find the course structure and final programme here.
Allie Gartland (Sheffield)
Scott Dillon (Cambridge)
Isabel Orriss (RVC)
Stefaan Verbruggen (Sheffield)
Colin Farquharson (Edinburgh)
Agi Grigoriadis (KCL)
Enrico Dall'Ara (Sheffield)
Alex Ireland (Manchester)
Richard Eastell (Sheffield)
Eugene McCloskey (Sheffield)
Jim Gallagher (Liverpool)
Alanna (Leni) Green (Sheffield)
Amy Naylor (Birmingham)
Registration
Registration deadline: 2nd November 2022.
The registration fee is £150 including all meals and refreshments.
Attendees should source their own accommodation. Rooms may be available at The Rutland Hotel nearby the INOX Conference Centre on a first come, first served basis.
Please register through the University of Sheffield Online Store.

Contact us

For all queries about the course please contact the organising committee at om-bone-biology-course@sheffield.ac.uk.