14th International Conference on Osteogenesis Imperfecta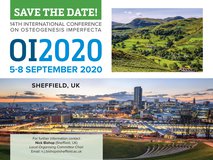 30 August - 2 September 2022, Sheffield, UK
It is with great pleasure we invite you to participate in the 14th International Conference on Osteogenesis Imperfecta (OI2020) in Sheffield, UK, on 1 to 4 September 2021 (postponed from 5-8 September 2020).
The meeting will offer a high quality scientific programme of interest to both clinical and basic scientists. We're expecting between 200 and 250 delegates from across the globe, including many key opinion leaders in the field.
The multidisciplinary nature of the conference provides an opportunity to talk to specialists from many different fields including geneticists, internists, endocrinologists, orthopaedic surgeons, dentists, radiologists, paediatricians, physiotherapists, nurses and others working with osteogenesis imperfecta.