BRS Webinar Series - Prof Nick Evans (Southampton), Bubbles for Bonding Broken Bones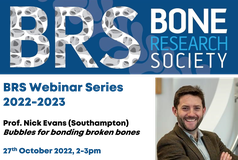 27 October 2022, 14:00, Zoom: https://us06web.zoom.us/j/89090933561
Nick is a Professor in Bioengineering at the University of Southampton, UK. His research focuses on drug delivery and biomaterials in tissue repair and regeneration.
He obtained a BSc in Biology from the University of Nottingham, UK. He then completed a PhD at King's College London under the supervision of Prof John Pickup, where he researched techniques in fluorescence spectroscopy for tracking metabolism in cells by using their natural fluorescence. He worked as an MRC postdoctoral fellow under Prof Julia Polak and Prof Molly Stevens at Imperial College researching the effects of biomaterials on the differentiation of embryonic stem cells.
After further postdoctoral work at Stanford University, USA, focussed on liposomal delivery of Wnt proteins, he took up a position at the University of Southampton in the UK. His current work focusses on use of polymersomes, microbubbles and nanodroplets for drug delivery in bone repair and infection control. His work is published in respected journals, including Nature Materials, PNAS, ACS Nano and Biomaterials and his current research is funded by EPSRC, BBSRC and ORUK.
Join us on Zoom at: https://us06web.zoom.us/j/89090933…
Part of BRS Webinar Series