Dr Alison Gartland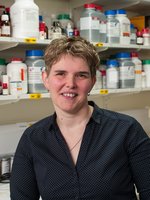 Oncology & Metabolism
The University of Sheffield
a.gartland@sheffield.ac.uk
+44 (0)1142 712531
The Medical School, Beech Hill Rd, Sheffield, S10 2RX, UK.
www.shef.ac.uk/medicine/humanmetabolism/people/gartland.html
www.twitter.com/drallieg
I am a Reader in Bone and Cancer Biology at The University of Sheffield. I gained her PhD at The University of Liverpool in 2001 and undertook post-doctoral training at CNRS, France and at the University of Massachusetts Medical School, USA.
My principal research interest is in understanding the basic cellular and molecular mechanisms responsible for musculoskeletal disease and cancer, with an emphasis on the role of extracellular ATP and P2 receptors.
Current projects in the Gartland laboratory [www.gartland.staff.shef.ac.uk] include: the role of P2 receptors in bone and cartilage using both in vivo and in vitro models; the mechanisms of ATP release from osteoblasts; association of polymorphisms in the P2X7 receptor with osteoporosis and arthritis-induced joint destruction and bone loss; the effect of metal ions on bone cells in vitro, determining the bone phenotype of various knock-out mice and cancer metastasis to bone. Her group has received funding from Arthritis research UK, Breast Cancer Campaign, EU Framework7, [www.atpbone.eu], The Cavendish Hip Foundation, Orthopaedic Research UK and the biotechnology and pharmaceutical industry.
I have been a member of BRS since 1997 and I am passionate about giving back to the BRS the support that it has given me over the years!
Research profile: Basic/Translational
Skills: Cell Biology, Computer Tomography, Genetic Manipulation, Image Analysis, Immunocytochemistry, In Vivo Models, Molecular Biology.
Interests: Ageing, Biomechanics, Bone Density, Bone Strength, Endocrinology, Extracellular Matrix, Growth Plate, Imaging, Mineralisation, Osteoarthritis, Osteoporosis, Paget's.
Other Societies: ASBMR, ECTS, UK Purine Club.